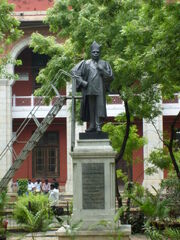 Arcot Lakshmanaswami Mudaliar
(born 1887 - lived up to 1974) was an
Indian
educationist
and
physician
with notable international and academic roles.
Life
A.L.Mudaliar persuaded his education from the prestigious Madras Christian College. One of twin brothers, he was the longest serving Vice-Chancellor of Madras University (for 27 years).
He is the recipient of Padma Vibhushan, the second highest civilian award of India.
Other notable assignments
He was Deputy Leader of the Indian delegation to the First World Health Assembly in Geneva in 1948.
He was elected Chairman of the WHO Executive Board in 1949 and 1950.
He was Vice-President of the Eighth World Health Assembly in 1955.
He was President of the Fourteenth World Health Assembly.
See also
Ad blocker interference detected!
Wikia is a free-to-use site that makes money from advertising. We have a modified experience for viewers using ad blockers

Wikia is not accessible if you've made further modifications. Remove the custom ad blocker rule(s) and the page will load as expected.