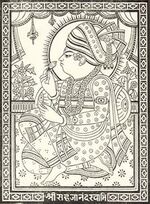 Bhagwan Swaminarayan, the central figure of the Swaminarayan faith of Hinduism and is believed to be, by his followers, an incarnation of God.
Bhagwan Swaminarayan was born in Uttar Pradesh, (North India) on April 3, 1781 AD (Samvat year 1837 Chaitra sud Nom),and lived up to 1830. He mastered multiple Hindu scriptures at the age of 7, renounced his home at the age of 11, performed austerities in the Himalayas and traveled through India for the next seven years across 8,000 miles. He settled in an ashram in Gujarat (Western India). He then preached his doctrine of love, peace, purity and non-violence.
His temples are spread throughout the world.
Ad blocker interference detected!
Wikia is a free-to-use site that makes money from advertising. We have a modified experience for viewers using ad blockers

Wikia is not accessible if you've made further modifications. Remove the custom ad blocker rule(s) and the page will load as expected.