Overview: place & people
Place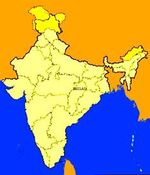 Bhilai is the second-largest city in Chhattisgarh, India. The adjacent image shows the location.

It has a population of 553,837 (2001 census).
Location
The city is located 22 km west of the capital Raipur on the Howrah-Mumbai rail line, and National Highway 6.
History
Culture
Economy
Politics
BHILAI VAISHALI NAGAR GOOD CANDIDATE FROM CONGRESS IS BJAN SINGH NIRANKARI
See also
Photo gallery
Everything else
External links
Ad blocker interference detected!
Wikia is a free-to-use site that makes money from advertising. We have a modified experience for viewers using ad blockers

Wikia is not accessible if you've made further modifications. Remove the custom ad blocker rule(s) and the page will load as expected.