Biligirirangan Hills (Kannada:ಬಿಳಿಗಿರಿರಂಗನ ಬೆಟ್ಟ ) commonly called B R Hills, is one of the Wildlife sanctuaries of India.
Location
It is a hill range situated in south-eastern Karnataka, at its border with Tamil Nadu in South India. It is picturesquely situated between the Cauvery and the Tungabhadra rivers.
The hills are in the Yelandur and Kollegal Taluks of Chamarajanagar District. The hills are contiguos with the Satyamangalam range southwards, in the Erode District of Tamil Nadu.
The hills that give the range its name are situated 90 km from Mysore and 180 km from Bangalore.
Approach
The hills may be reached either from Yelandur or via Chamarajanagar.
Details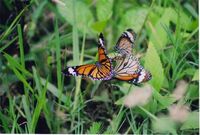 The area is called Biligiriranga Swamy Temple Wildlife Sanctuary or simply BRT Wildlife Sanctuary. Being at the confluence of the Western Ghats and the Eastern Ghats, the sanctuary is home to eco-systems that are unique to both the mountain ranges. This makes it a very critical habitat and as such it supports diverse flora and fauna.
Ad blocker interference detected!
Wikia is a free-to-use site that makes money from advertising. We have a modified experience for viewers using ad blockers

Wikia is not accessible if you've made further modifications. Remove the custom ad blocker rule(s) and the page will load as expected.