Chitra Ramanathan (born in Thiruvananthapuram India) (Tamilதமிழ் ; is a contemporary Indian American visual artist and educator. She produces predominantly large scale abstract conceptual mixed media paintings, drawings, prints, installation works and sculpture that have been exhibited in art galleries in SoHo, Broadway Manhattan, New York, Chicago and Indianapolis and the World Wide Web such as the Saatchi Gallery and AskArt.com. Several of her colorful mixed media paintings are with art collections around the United States and in Europe including donation of two large scale paintings on permanent display in the conference hall of the College of Medicine at the University of Illinois at Urbana-Champaign since 1995 and a painting sold at the Madam C.J. Walker Theatre Center, Indianapolis towards benefit to the Eightieth Birthday Benefit Gala Dinner-silent and live art auction in 2006 and donation of a painting created and based on the Hollywood movie "Breaking Away" for the Indianapolis International Film Festival 2008.
Commissions include a series of post-card paintings, a commission for the Florida International University art department, Miami, Florida in 2005, and a series of ten post-card sized paintings to the Indianapolis Museum of Art's "Gallery of the Machine" in 2006.Current art commission entails creating a wall mural measuring 13.8 feet wide and 4 feet high, for the front lobby of Crooked Creek Elementary School, Marion County, Indianapolis, this March 2008 site specific public art project made possible through a grant to the school by the Metropolitan School District of Washington Township (MSDWT) which is a public school district in Indianapolis. Forthcoming forays include art direction and set decoration for movies.
Recent site-specific public art commissions and installation art projects include two paintings signed by the artist, a 2004 the MGM Mirage Las Vegas permanently installed inside the Bellagio Conservatory and Botanical Gardens, Las Vegas, and five large-scale multi-media paintings for the Arts Council of Indianapolis at Chase Tower, near Monument Circle Indianapolis in 2006, supported by the Indianapolis Cultural Development Commission.
Her work has attracted invitational visiting artist lectures to educational institutions to name a couple, the Kansas State University art department in 2002, and Great Britain to the Royal Academy of Arts/RA Schools London, England in 2005 by current RA Keeper and Head Professor Maurice Cockrill, RA FBA. She is a current committee member of the College Art Association, New York. She twice received the Liquitex Product Grant Award for 1994 and 1995, from Binney & Smith, makers of Crayola crayons. The awards were designated for "Outstanding achievement in the Painting discipline."
She is an alumna of the College of Fine & Applied Arts at the University of Illinois at Urbana-Champaign, and currently Painting Faculty at the Indianapolis Art Center. She first received her Bachelor of Fine Arts Degree from Stella Maris College, an autonomous institution affiliated to the University of Madras in Chennai, Tamil Nadu, India. She earned her second Bachelors of Fine Arts in Painting with Honors in 1993 during which period she also allotted time to study Painting and Art History in Paris, France, with visits to Giverny, France that influenced her later work. and a Master of Business Administration (M.B.A), including a 1996 summer internship at the New Museum of Contemporary Art, New York in 1997, both of the latter degrees from the University of Illinois at Urbana-Champaign, U.S.A.
References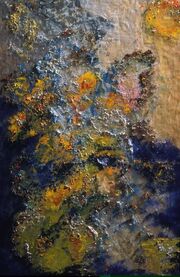 [1]
Featured Image titled "Evanescence", Mixed media on and behind Plexiglas, from Chitra Ramanathan's "e-series" of conceptual paintings
http://www.chitraramanathan.com
http://www.imdb.com/name/nm2993868/ at the Internet Movie Database
http://www.askart.com/askart/r/chitra_ramanathan/chitra_ramanathan.aspx http://www.askart.com/AskART/artists/bulletin.aspx?searchtype=DISCUSS&artist=130159
http://www.in.gov/film/pdf/sourcebook.pdf, (Section: ART; see Art Directors, Scenic Artists, Set Construction)
http://en.wikipedia.org/wiki/UIUC_College_of_Fine_and_Applied_Arts
http://www.collegeart.org/committees/diversity.htm
http://indianet.com/arts-co-in/chitra-ramanathan.html
Image: http://www.indianet.com/arts-co-in/chitra-vegas.htm (Commissioned conceptual portrait of S.P.Balasubrahmanyam presented to the artiste during his Indianapolis tour 2006)
Saatchi Gallery, London Artist Profile
Image: http://en.wikipedia.org/wiki/Image:Mixed_media_on_and_behind_Plexiglas_Private_Collection%2C_Lisbon%2C_Portugal.jpg
Image: http://india.wikia.com/wiki/Image:Commission_for_MGM_Mirage%2C_2004
Ad blocker interference detected!
Wikia is a free-to-use site that makes money from advertising. We have a modified experience for viewers using ad blockers

Wikia is not accessible if you've made further modifications. Remove the custom ad blocker rule(s) and the page will load as expected.