Civil disobedience is the active refusal to obey certain laws, demands and commands of a government, or of an occupying power, without resorting to physical violence. It is one of the primary tactics of nonviolent resistance. In its most nonviolent form (known as ahimsa or satyagraha) it could be said that it is compassion in the form of respectful disagreement.
Civil disobedience has been used in many well-documented nonviolent resistance movements in India (Gandhi's social welfare campaigns and campaigns for independence from the British Empire).
Few pictures related to Quit India at Bangalore(India) are also shown here.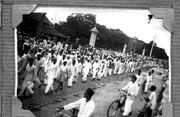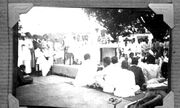 External links
[1]—an article on (C. F. Andrews)- Christ's Faithful Apostle.
Ad blocker interference detected!
Wikia is a free-to-use site that makes money from advertising. We have a modified experience for viewers using ad blockers

Wikia is not accessible if you've made further modifications. Remove the custom ad blocker rule(s) and the page will load as expected.