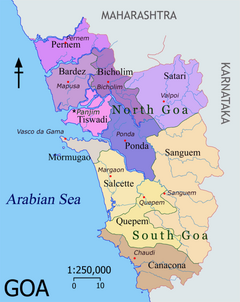 A district is an administrative division of an Indian state or territory. Districts are further subdivided, in some cases into Sub-Divisions, and otherwise directly into tehsils or talukas.
District officials include:
Each of these officials is aided by officers of the appropriate branches of state government.
Most districts have a distinct headquarters; Mumbai is an example of a city which, despite coming under a district, does not have a district headquarters, though it does have a Collector.
Overview
Naming
The majority of districts are named after their administrative center. Some are referred to by two names, a traditional one and one that uses the name of the town that is the headquarters. Since most of the districts are named after a town, the word "district" or "District" is appended to distinguish between the town and the district. Official websites very often use District with a capital D in this context.
City districts
Note, Chandigarh is the capital of two states and one Union territory.
See also
Ad blocker interference detected!
Wikia is a free-to-use site that makes money from advertising. We have a modified experience for viewers using ad blockers

Wikia is not accessible if you've made further modifications. Remove the custom ad blocker rule(s) and the page will load as expected.