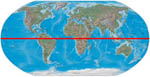 The equator is an imaginary line on the Earth's surface equidistant from the North Pole and South Pole that divides the Earth into a Northern Hemisphere and a Southern Hemisphere. The equators of other planets and astronomical bodies are defined analogously.
Geodesy of the equator
The latitude of the equator is, by definition, 0°. The length of Earth's equator is about 40,075.0 km, or 24,901.5 miles.