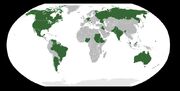 A federation (Latin: foedus, covenant) is a union comprising a number of partially self-governing states or regions united by a central ("federal") government. In a federation, the self-governing status of the component states is typically constitutionally entrenched and may not be altered by a Unilateralism decision of the central government.
Ad blocker interference detected!
Wikia is a free-to-use site that makes money from advertising. We have a modified experience for viewers using ad blockers

Wikia is not accessible if you've made further modifications. Remove the custom ad blocker rule(s) and the page will load as expected.