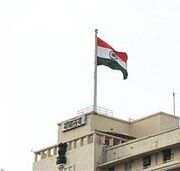 India's Independence Day Hindi: स्वतंत्रता दिवस) is celebrated on August 15 to commemorate its independence from the British rule and its birth as a sovereign nation on that day in 1947.
Actvities
The day is a national holiday in India. It is celebrated all over the country through flag-hoisting ceremony and distribution of sweets.
The main celebration takes place in New Delhi, where the Prime Minister hoists the National Flag at the Red Fort and delivers a nationally televised speech from its ramparts.
The Prime Minister also pays his tribute to leaders of the freedom struggle.
History
On 3 June 1947, Viscount Lord Louis Mountbatten, the last British Governor-General of India, announced the partitioning of the British Indian Empire into India and Pakistan, under the provisions of the Indian Independence Act 1947.
See also
Ad blocker interference detected!
Wikia is a free-to-use site that makes money from advertising. We have a modified experience for viewers using ad blockers

Wikia is not accessible if you've made further modifications. Remove the custom ad blocker rule(s) and the page will load as expected.