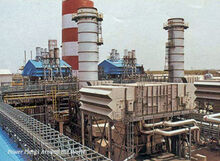 Indian Petrochemicals Corporation Limited (IPCL) is a pioneering petrochemicals company in India.
It is also one of the constituents of Nifty.
History
It was established on March 22, 1969, with a view to promote and encourage the use of plastics in India.
Business
Its business consists of polymers, synthetic fibre, fibre intermediaries, solvents, surfactants, industrial chemicals, catalysts, adsorbents and polyesters. The Company operates three petrochemical complexes, a naphtha based complex at Vadodara and gas based complex each at Nagothane near Mumbai and at Dahej on Narmada estuary in bay of Khambhat. The Company also operates a catalyst manufacturing facility at Vadodara.
In June 2002, the Government of India as a part of its disinvestment programme divested 26% of its equity shares.
Effective April 1, 2005, the six polyester companies namely Appollo Fibres Limited (AFL), Central India Polyesters Limited (CIPL), India Polyfibres Limited (IPL), Orissa Polyfibres Limited (OPL), Recron Synthetics Limited (RSL) and Silvassa Industries Private Limited (SIPL) have been amalgamated with IPCL.
Polyester units locations
The polyester units are based in Hoshiarpur (Punjab), Nagpur (Maharashtra), Barabanki (Uttar Pradesh), Baulpur (Orissa), Allahabad (Uttar Pradesh) and Silvassa (Gujarat).
Ad blocker interference detected!
Wikia is a free-to-use site that makes money from advertising. We have a modified experience for viewers using ad blockers

Wikia is not accessible if you've made further modifications. Remove the custom ad blocker rule(s) and the page will load as expected.