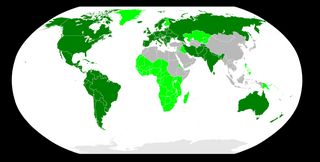 The Indo-European languages comprise a family of several hundred related languages and dialects, including most of the major languages of Europe, the northern Indian subcontinent (South Asia), the Iranian plateau (Southwest Asia), and much of Central Asia. Indo-European (Indo refers to the Indian subcontinent) has the largest numbers of speakers of the recognised families of languages in the world today, with its languages spoken by approximately three billion native speakers. The Sino-Tibetan family of tongues has the second-largest number of speakers.
The adjacent map shows:
Green colour-Countries with a majority of speakers of IE languages.
Light green colour-Countries with an IE minority language with official status.
Grey colour-Other countries.
Ad blocker interference detected!
Wikia is a free-to-use site that makes money from advertising. We have a modified experience for viewers using ad blockers

Wikia is not accessible if you've made further modifications. Remove the custom ad blocker rule(s) and the page will load as expected.