Kumar Shri Duleepsinhji Jadeja 1905-59 was a cricketer who played for England.
He was born on June 13, 1905 in Kathiawar (present day Gujarat state), one of the Princely States, in India. He lived up to December 5, 1959 and died in Bombay - now Mumbai.
Sports
Duleepsinhji will always be remembered as one of the outstanding personalities during his period in first-class Cricket.
Active life
Based on his experience as High Commissioner for India in Australia and New Zealand he was made Chairman of the Public Service Commission in the State of Saurashtra after his return to India.
As Maharaja of Navanagar (Jamnagar) he took lot of interest in the well being of his subjects and the State governing. He mixed with state subjects freely.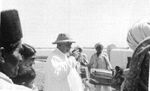 The photo shows one of his routine visits to a village near Junagadh in Saurashtra State to see the condition of living of the local people. He is being given the traditional welcome by the villagers by drum beating, pipe music etc.
He also visited the first and the only public utility Thermal Power Station in that State, at that time located at Shapur, near a village Vanthly (near Junagadh). As this power station was using crushed coal as fuel for boilers and chlorination for the cooling water system, which normally polluted the local atmosphere, he wanted to see personally the working conditions and the amenities provided for the villagers housing and the recreation facilities.
The Duleep Trophy is named in his honour.
His uncle Kumar Shri Ranjitsinhji, after whom the Ranji Trophy is named, also played cricket for England.
Ad blocker interference detected!
Wikia is a free-to-use site that makes money from advertising. We have a modified experience for viewers using ad blockers

Wikia is not accessible if you've made further modifications. Remove the custom ad blocker rule(s) and the page will load as expected.