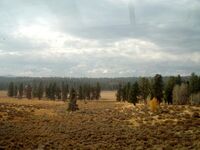 A landscape comprises the visible features of an area of land, including physical elements such as landforms, living elements of flora and fauna, abstract elements such as lighting and weather conditions, and human elements, for instance human activity or the built environment.
Word-history
The word landscape comes from the Dutch word landschap, from land (directly equivalent to the English word land) and the suffix -schap, corresponding to the English suffix "-ship".
Ad blocker interference detected!
Wikia is a free-to-use site that makes money from advertising. We have a modified experience for viewers using ad blockers

Wikia is not accessible if you've made further modifications. Remove the custom ad blocker rule(s) and the page will load as expected.