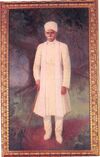 Madan Mohan Malaviya lived between 1861 and 1946. He was an Indian politician, notable for his role in the freedom struggle and his espousal of Hindu nationalism.
Malaviya was born to an orthodox Hindu family at Allahabad. He studied the scriptures from an early age.
Achievements
He established Asia's largest university, Banaras Hindu University, today a prominent institution of learning in India.
Malaviya was the president of the Indian National Congress during 1909 and in 1918.
Politics
In 1928 he joined Lala Lajpat Rai, Jawaharlal Nehru and many others in protesting against the Simon Commission, which had been set up by the British to consider India's future.
With Mahatma Gandhi he represented India at the First Round Table Conference in 1931.
Malaviya popularised the famous slogan "Satyameva Jayate" (Truth alone will triump).
Ad blocker interference detected!
Wikia is a free-to-use site that makes money from advertising. We have a modified experience for viewers using ad blockers

Wikia is not accessible if you've made further modifications. Remove the custom ad blocker rule(s) and the page will load as expected.