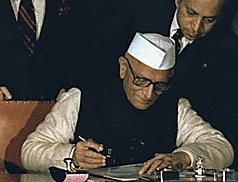 Morarji Ranchhodji Desai (Hindi: मोरारजी देसाई), was born on February 29, 1896 and lived up to April 10, 1995. He was an Indian freedom fighter and the first Prime Minister that did not belong to the Indian Congress Party.
He is the only Indian to receive the highest civilian awards from both India and Pakistan, namely the Bharat Ratna and Nishaan-e-Pakistan.
See also
Ad blocker interference detected!
Wikia is a free-to-use site that makes money from advertising. We have a modified experience for viewers using ad blockers

Wikia is not accessible if you've made further modifications. Remove the custom ad blocker rule(s) and the page will load as expected.