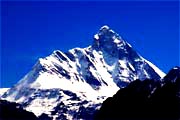 Nanda Devi is the second highest mountain in India, and the highest entirely within the country.
Location
Kangchenjunga, on the border of India and Nepal, is the highest peak in India. It is part of the Garhwal Himalaya, and is located in the state of Uttarakhand, between the Rishiganga valley on the west and the Goriganga valley on the east. Its name means Bliss-Giving Goddess.
The peak is regarded as the patron-goddess of the Uttarakhand Himalaya.
Ad blocker interference detected!
Wikia is a free-to-use site that makes money from advertising. We have a modified experience for viewers using ad blockers

Wikia is not accessible if you've made further modifications. Remove the custom ad blocker rule(s) and the page will load as expected.