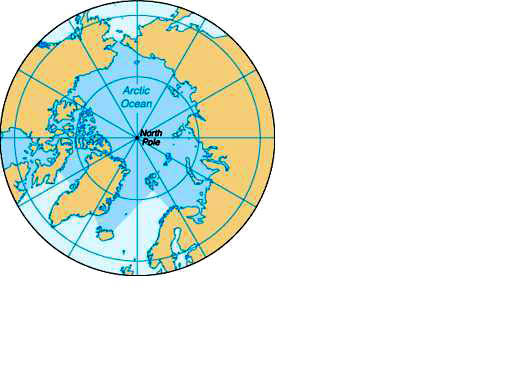 The North Pole, also known as the Geographic North Pole or Terrestrial North Pole, is defined as the point in the northern hemisphere where the Earth's axis of rotation meets the Earth's surface.
Magnetic pole
It should not be confused with the North Magnetic Pole.
Location
The North Pole is the northernmost point on Earth, lying diametrically opposite the South Pole.
Definition
It defines latitude 90° North, as well as the direction of True North.
South pole
While the South Pole lies on a continental land mass, the North Pole is located in the middle of the Arctic Ocean, amidst waters that are almost permanently covered with constantly shifting sea ice. This makes it impossible to construct a permanent station at the North Pole (unlike the South Pole).
Directions
At the North Pole all directions point south.
Bold text
Ad blocker interference detected!
Wikia is a free-to-use site that makes money from advertising. We have a modified experience for viewers using ad blockers

Wikia is not accessible if you've made further modifications. Remove the custom ad blocker rule(s) and the page will load as expected.