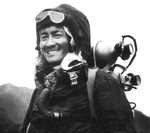 Tenzing Norgay (George Medal)(GM), (May 1914 – May 9, 1986), often referred to as Sherpa Tenzing, was a Nepalese / Tibetan mountaineer.
Life
Details are;
Born May, 1914 at Kharta Valley, Tibet;
Died 9 May 1986 (aged 71);
Darjeeling, India;
Occupation mountaineer, tour guide;
Spouse Dawa Phuti, Ang Lahmu, Dakku;
Children Pem Pem, Nima, Jamling and Norbu.
Achievement
Near his 39th birthday on May 29, 1953, he and Sir Sir Edmund Hillary were the first people known to have reached the summit of Mount Everest.
Ad blocker interference detected!
Wikia is a free-to-use site that makes money from advertising. We have a modified experience for viewers using ad blockers

Wikia is not accessible if you've made further modifications. Remove the custom ad blocker rule(s) and the page will load as expected.