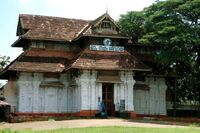 Thrissur (Malayalam: തൃശു൪) is a district situated in the central part of Kerala state, India. Thrissur district was formed on July 1, 1949. The headquarters of the district has the same name, Thrissur City. It is an important cultural centre, and is known as the "cultural capital" of Kerala. It is famous for the Thrissur Pooram festival, the most colourful and spectacular temple festival of Kerala. It has a large number of well-known temples around, including the temple town of Guruvayur.
See also
Link
Ad blocker interference detected!
Wikia is a free-to-use site that makes money from advertising. We have a modified experience for viewers using ad blockers

Wikia is not accessible if you've made further modifications. Remove the custom ad blocker rule(s) and the page will load as expected.