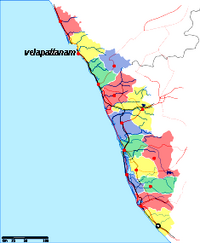 =
Valapattam,alternatively Valapattanam, is a small town in Kannur district in the Indian state of Kerala. This town is also known as Balyapattanam.=====
Location
It is about 7 km from Kannur. This town is located on the banks of Valapattanam river. (The location and the State is shown in the adjacent sketch).
Community
Valapattanam is a strong bastion of the Indian Union Muslim League. Valapattanam is known for its communal harmony which is an example for the country filled with communal tensions. On one hand one can see the "Kalarivathukkal temple" and on the other hand you have the "Kakkulangara Mosque" lying in close proximity. The long vision of the social leaders and people on the whole has made Valapattanam a land of communal harmony.
The famous Muthappan temple is also in the bank of Valapattanam river.
Industry
This town is well known for its wood-based industries and timber trade.
Centuries back Valapattanam puzha (river) was the main ship route for trading. Valapattanam was the main town, because of this the town got this name. "Valya pattanam" means "big town" in Malayalam language though it is the smallest panchayath in Kerala.
The port of Azhikkal is located nearby. In the bank of Valapattanam river you see Western India Plywoods Ltd., the largest wood-based industry in the country and which was the biggest plywood factory in Asia till few years back.