There are Twenty nine World Heritage Sites in India.
This is a list of UNESCO World Heritage Sites in India. These sites are on the list maintained by the international World Heritage Programme administered by the UNESCO World Heritage Committee.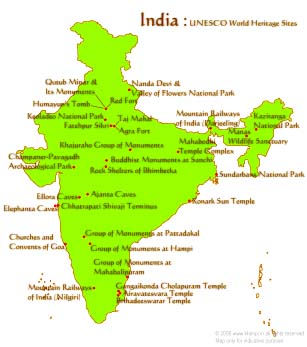 Statewise list of World Heritage Sites in India
(Details of each State are given)
Assam
Bihar
Delhi
Goa
Gujarat
Karnataka
Madhya Pradesh
Maharashtra
Orissa
Rajasthan
Tamil Nadu
Uttar Pradesh
Uttaranchal
West Bengal
References
Ad blocker interference detected!
Wikia is a free-to-use site that makes money from advertising. We have a modified experience for viewers using ad blockers

Wikia is not accessible if you've made further modifications. Remove the custom ad blocker rule(s) and the page will load as expected.